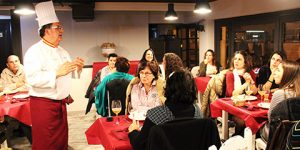 Culinary events
In Vinoteo we organize and participate in numerous events, courses and tastings of products. The vast majority celebrate them right here, but sometimes we go to the countryside to pick mushrooms, or where we take our permanent quest for gastronomic emotions. In this section we inform all of them and how to participate.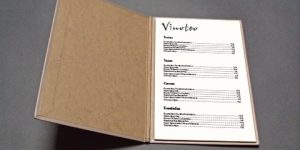 Our menu offers an original and balanced, simple and varied selection, ideal for snacks and share some tapas to enjoy more consistent dishes. Furthermore, a careful selection of wines with very different references provides all palates the opportunity to enjoy the best experience.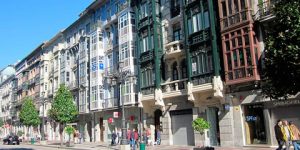 Oviedo is a city in full transformation. Small city with little national impact was so attractive enclave that is becoming today, some 10 years that there have been major architectural changes, Formula 1 drivers like Fernando Alonso and the city have passed queen reale.
Fuimos tres personas a comer, dos de ellas compartieron un menú de las jornadas que el restaurante ofrecía y la otra comió a la carta. Quedamos encantados con todo, estaba todo muy bueno y buena relación calidad precio.
Todo lo que comimos estaba estupendo
Adriana E.
A destacar, la amabilidad de su propietario y de todo el persona, que te aconsejan y te frenan a la hora de pedir ya que te advierten de lo abundante de sus platos. Originalísimas sus ensaladas, sus sartenes y las carnes. Buena bodega Un lujo a un precio muy asequible.
Un lugar imprescindible en Oviedo
Maribel I.
El otro miércoles mi pareja y yo salimos de la Renfe y después de pasear bastante por los alrededores entramos al Vinoteo, nos sorprendió muchísimo la gran calidad de su menú, consistente, con un gran sabor y buena presentación. La atención del personal muy agradable, aconsejándonos y dando un trato personal excelente.
Un 10
Juan M.
Uno de los mejores sitios para comer en el centro de Oviedo justo al lado de la estación de renfe. El magret de pato y el cachopo especial son espectaculares!!! Una buena relación calidad precio. Lo recomiendo sinceramente!!!!
Estupenda cocina
1-choastwelder
Después de muchas visitas al centro de Oviedo, descubrí este sitio de casualidad. Menú diario de calidad, con buenas cantidades y muy buen precio. Un comedor muy acogedor y un trato muy personal.
Gran descubrimiento
Abel R